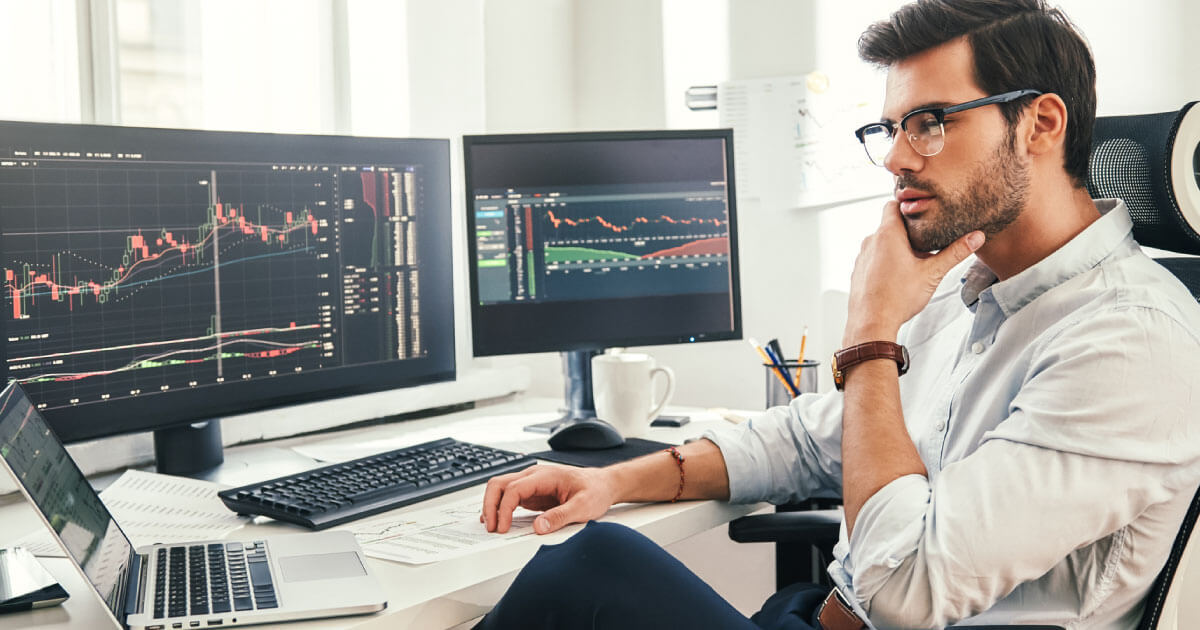 The coronavirus pandemic introduced significant disruption and uncertainty into the global electronics industry. Earlier this year, the health crisis prompted widespread and costly production shutdowns and logistics delays. It also had a profound effect on the sector's various end-markets.
For example, worldwide smartphone shipments plummeted in the first quarter because economic instability deprioritized handset upgrades. But laptop shipments rose by 40 percent in Q2 as employees and students bought new hardware to facilitate working and learning remotely.
Three other electronics end-markets—home entertainment, medical, and automotive—have also experienced significant pandemic related surges in growth this year. Moreover, market analysts expect those segments to continue expanding into 2021 and beyond.
Here's a closer look at the factors driving demand in the consumer, health, and vehicle electronics sectors and how small and medium-sized enterprises (SMEs) should respond to these trends.
Digital Entertainment Usage Increases to Relieve Boredom
Across the globe, regional governments instituted self-quarantine mandates to halt the spread of the coronavirus. Consequently, consumers could no longer enjoy simple pleasures like going to movies, attending sporting events, or even dining out.
To stave off cabin fever, people increased the amount of time they spend on digital entertainment platforms. In the first half of 2020, streaming video company, Netflix, added 26 million new users. Similarly, Microsoft and Sony saw massive spikes in the usage of their Xbox and PlayStation online gaming services.
As time has passed, some areas have loosened their lockdown orders amid declining infection rates. But traditional entertainment providers like movie studios are not planning to release their most anticipated offerings until 2021.
Lacking other options, the public will continue consuming large quantities of digital entertainment at home for the foreseeable future.
The recent, almost immediate, preorder sellouts of next-generation video game consoles like the new Xbox and PS 5 support this idea. It is very clear from this alone that consumers intend to continue spending their free time in digital spaces.
What does this trend mean for SMEs? Now is a good time for electronics manufacturers to develop new products that make streaming media easier, faster, and more comfortable.
Monitoring Health is a Major Consumer Concern
Another electronics end-market trend sparked by the pandemic is the increased consumer interest in wearable fitness technology. People these days are interested in tracking steps, heart rates, and even one's VO2Max. Why? The pandemic, of course.
According to the John Hopkins University of Medicine, nearly 33 million people have contracted the coronavirus since its identification last December. In turn, the public has become more interested in monitoring their health for signs of potential infection.
As consumers have turned to fitness trackers to address this concern, device shipments have increased by millions of units from 2019.
The health-focused wearables sector has become more diverse as it has expanded. When fitness trackers first rose to prominence in the early 2010s, a few companies dominated the global marketplace (Fitbit, Garmin, Apple). Today, multiple vendors are succeeding by offering products with innovative features and/or low price points.
S&P Global, a market intelligence firm, anticipates the segment will experience a long-term growth trend and expand by 10.69 percent by 2024.
Given these conditions, SMEs should consider the viability of introducing new wearable health monitoring devices as soon as possible.
The Pandemic has Accelerated the EV Trend
Increased environmental protection initiatives and new trends in affordability have significantly increased the size of the electric vehicle (EV) market. In fact, from 2015 to 2019, yearly passenger EV sales skyrocketed by 366.6 percent.
According to MarketWatch, the sector will continue to experience a compound annual growth rate of 35.6 percent through 2023. But in early 2020, the coronavirus pandemic seemed like it would indefinitely stall the EV market's growth.
Shutdown mandates and economic contraction disrupted production and significantly diminished demand. However, the auto industry has already begun to recover from the impact of the global health crisis. In July, the Chinese car market, which is the world's largest, grew by 14.9 percent year-over-year.
One reason for the sector's resistance to an economic downturn is that electrification is a driver of post-coronavirus economic recovery. This can be seen in California, where government officials want to ramp up clean energy development as a means of reversing the state's massive coronavirus related job losses.
Now, despite the technology's transformative potential, EVs will only represent an estimated 3 percent of global 2020 car sales. That means SMEs have a significant opportunity to break into or expand their share of the $269.9 billion in-vehicle electronics end-market. That said, the companies that move the fastest will likely stake the biggest claims in the EV gold rush.
The Importance of Agility
Although the pandemic has affected different electronics industry sectors in very different ways, there is one commonality to its impact: The outbreak and its aftereffects fostered rapid and widespread change. Companies wanting to thrive in the post-pandemic landscape need the agility to adjust their offerings to suit the "new normal."
One way electronics companies can revise their portfolio more expediently is through supply chain digitalization. By harnessing the power of new technology, SMEs can speed up their time-to-market by using new technology to optimize procurement, production, and logistics operations.
For example, Sourcengine gives firms the ability to browse over 1 billion part listings from over 3,000 fully traceable suppliers. The electronic components e-commerce marketplace also provides its users with worldwide shipping. That means SMEs can use the platform to develop their latest product ideas at the speed of the internet.
In the modern era, game-changing market opportunities can arise in a matter of weeks. Firms that have the agility to take advantage of those fluctuations will become market leaders. And companies that do not hustle when responding to industry trends will, sadly, be forgotten.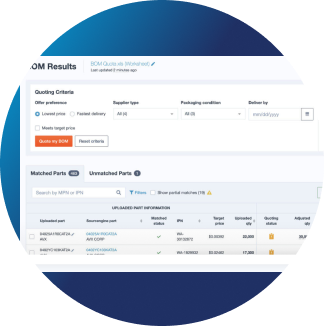 Quotengine: Your Ultimate BOM Tool
With Quotengine's real-time data on over 1 billion part offers, managing your BOM effectively has never been simpler.
Upload Your BOM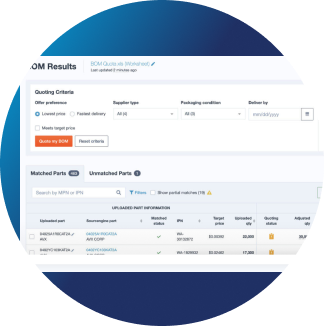 What's Your Excess Worth?
Real-time market data, quick response time, and unique price offers to help you maximize your return on excess inventory.
Get an Estimate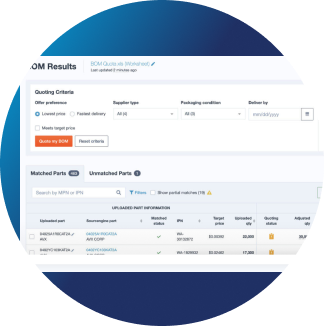 The Last Integration You'll Ever Need
Streamline manual processes and gain real-time access to inventory data, pricing updates, and order tracking through Sourcengine's API
Sign-up Here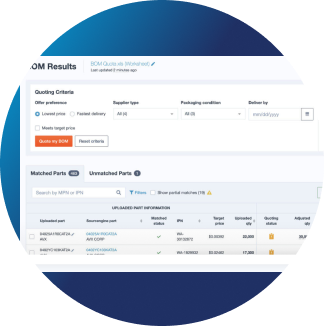 Sourcengine's Lead Time Report
Strategize for upcoming market shifts through lead time and price trends with our quarterly lead time report.
Download now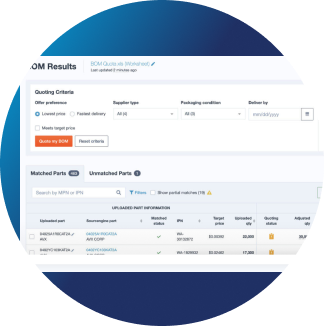 Sourcengine's Lead Time Report
Strategize for upcoming market shifts through lead time and price trends with our quarterly lead time report.
Download now