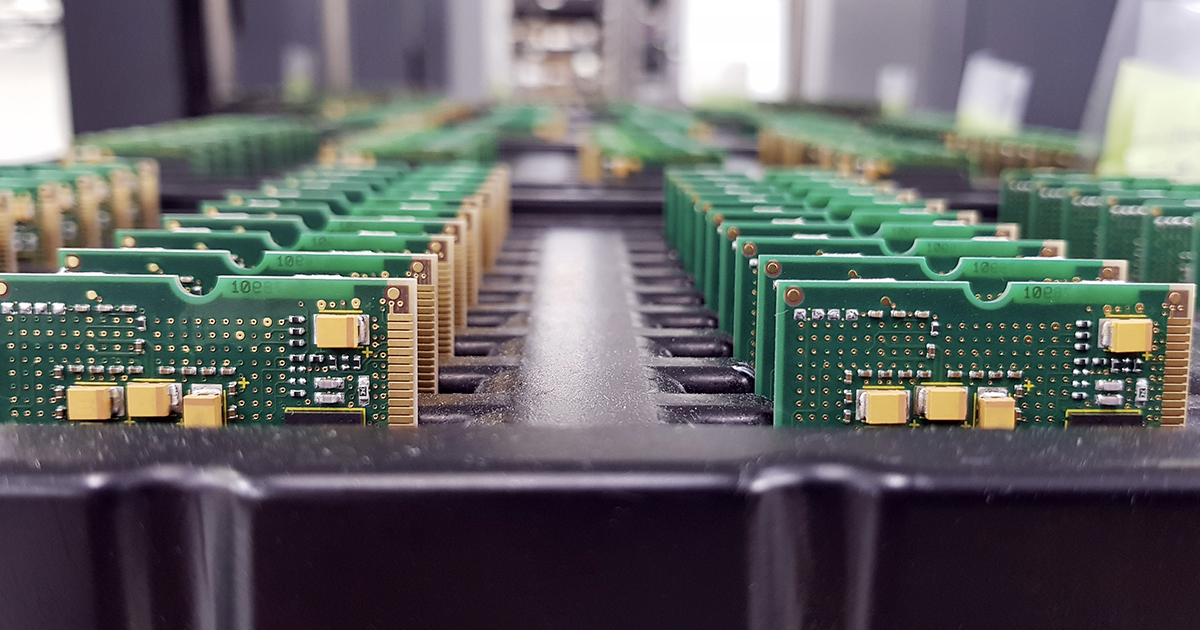 For decades, manufacturers and chipmakers maintained a mutually beneficial relationship. OEMs used their partners' electronic components to bring their products and equipment to life. And part vendors and their foundry partners made sure each new generation of their microelectronics featured improvements in size, performance, and energy efficiency.
This system made billions of dollars for all involved and introduced the world to the benefit of digitalization. But that longstanding paradigm is undergoing a significant shift.
Increasingly, large corporations have started developing their own semiconductors and outsourcing their production to contract foundries. Because of the substantial market presence of the companies involved, the trend is having a seismic impact on the electronic components supply chain.
Most notably, it is creating availability and pricing challenges for OEMs without vast financial resources.
Apple Changes the Game
Befitting its innovative legacy, Apple kicked off the movement of corporations making their own electronic parts.
It began the process in the late 2000s as current CEO Tim Cook ascended to his current position. The executive made it a priority for Apple to gain control of the core technologies empowering its devices. Cook launch the initiative to decrease the firm's dependence on third-party suppliers, moderate its costs, and streamline its product development process.
One example of the "Cook Doctrine" is its 2014 acquisition of Beats Electronics. Once the transaction closed, Apple changed how its subsidiary makes its trademark headphones. It replaced several of the device's communication parts with a single custom Bluetooth chip.
The Big Tech giant made similar changes to its iPhone CPU development methodology. It moved from contracting Arm to design its mobile chipsets to designing the components in-house and outsourcing their product to a leading pure-play foundry called Taiwan Semiconductor Manufacturing Company.
Apple's adoption of a holistic hardware and software development process proved hugely successful.
The performance quality of its self-designed iPhone microprocessors enabled the corporation to cement its position as a top-flight smartphone vendor. More recently, it started developing the processors for its Mac line instead of buying them from Intel. Its multifaceted and remarkably powerful M1 chipsets helped it meaningfully expand its market share in the personal computer space.
Cook's overhauling of Apple's development process did more than boost its product sales.
The company's massive buying power and partnership with a foundry service provider ensure its fulfillment is consistent. Therefore, it can largely meet the demand for its new and existing products amid industry-disrupting events like a global part shortage.
Based on recent developments within the technology world, several multinational corporations are eager to replicate Apple's success.
Big Tech Follows Apple's Example
Amazon, Microsoft, and Google rank as the largest cloud computing providers in the United States. Together, they provide the backend support that enables businesses and institutions to operate remotely. The digital infrastructure they have created also lets consumers stream movies, TV shows, and music on-demand everywhere. During the coronavirus pandemic, those services became essential to helping society adjust to life under lockdown.
While Big Tech giants generate billions of dollars in web services revenue annually, maintaining all that networking infrastructure is expensive. For example, AWS, Amazon's cloud computing subsidiary, spent $25.82 billion on operating expenses in 2020.
Unsurprisingly, America's top tech companies want to make an increasingly important part of their businesses more profitable by reducing their overhead costs. That has meant seeking energy-efficient server products to decrease their staggering electricity costs. Recently, the three corporations took a page out of Apple's playbook and started designing their own data center chips.
Amazon makes custom Arm-based SoCs called Graviton to support AWS. Last year, AnandTech found the latest version of the chip outperformed two competing products on cost per hour thanks to its low power consumption. Moreover, it determined TSMC fabricated the processor.
The retailer also introduced Inferentia, a chipset that accelerates some of its Alexa and Rekognition workloads. Amazon claims its solution reduced its digital assistant's latency by 25 percent with a 30 percent cost reduction.
In addition, Bloomberg reported that Microsoft is developing a custom server SoC for its Azure cloud services last December. Like Amazon, the corporation is eager to reduce its massive data center electricity bills. It is on track to generate $66.8 billion in web services revenue this year, so it has a big incentive to maximize its earnings.
Microsoft is also examining the possibility of creating custom processors for its Surface laptops.
The firm behind the world's most popular search engine has also jumped on the bandwagon. Since 2016m Google used self-designed tensor processing units (TPUs) to optimize its machine learning tasks. In April 2020, reports emerged that it started working with Samsung to developing processors for its Pixel smartphones. It has plans to equip future interactions of its Chromebooks with custom hardware.
As it happens, East Asia's major tech players have also expressed interest in making their own semiconductors.
An Emerging Trend in East Asia
America's Big Tech firms started crafting their chips to cut costs and improve their consumer products. But their Chinese counterparts have adopted the strategy for another reason, to reinforce their supply chains.
Two events catalyzed that development; the U.S.-China trade war and the COVID-19 outbreak.
Since it started in 2018, the trade war has caused major disruption within the global electronic components supply chain. A series of tariffs and retaliatory tariffs made moving parts between nations exceedingly expensive. And Washington enacted new export controls on certain semiconductor technologies that abruptly ended many international supply agreements.
The conflict also prompted Beijing to step up its efforts to establish a self-sufficient domestic microelectronics ecosystem.
More recently, the coronavirus pandemic provoked widespread regional lockdowns that led to plant shutdowns and shipping delays. It also precipitated a global component shortage in late 2020, which now affects over 169 industries.
Those back-to-back crises made in-house IC development and production a critical goal in China.
ByteDance, the Beijing-based corporation that created TikTok, organized a unit to make AI server ICs. Alibaba, a massive conglomerate headquartered in Hangzhou, launched a semiconductor subsidiary in 2018. It debuted an AI chip that greatly accelerated the processing capability of its e-commerce platforms in 2019.
Xiaomi, a Shanghai electronics company primed to match Apple's handset shipments this year, has also entered the field. It introduced the Surge C1, its first self-designed image signal processor, in March and has stakes in over 30 chipmakers based in its home country. Like Apple, its efforts will enable it to control its product evolution and stabilize its component supplies.
For large corporations with billions of dollars in cash on hand, in-house IC development makes a lot of sense. But the trend is causing problems for other less established firms in the ecosystem.
The Next Normal for Small and Midsized OEMs
With so many large tech companies pursuing the Apple model, component fabrication services have become much more in demand. The ongoing global chip shortage has shown how that development could negatively impact small and midsized OEMs.
Besides COVID-19-related disruption, another cause of the bottleneck is an imbalance in supply and demand for certain parts.
Last year, worldwide auto sales plummeted by an estimated 22 percent, which led carmakers to slash their parts orders. The contract foundries responsible for fabricating that vehicle silicon pivoted to making consumer electronics supplies in response. However, demand for new cars unexpectedly rebounded last winter, and carmakers rapidly burned through their stockpiles.
Unfortunately, TSMC, GlobalFoundries, Samsung, and Semiconductor Manufacturing International Corporation (SMIC), four of the world's largest contract chipmakers, lacked the capacity to accommodate the auto market's rapid recovery.
That the imbalance between supply and demand caused most top carmakers to close their plants temporarily. And most leading chipmakers had to extend their lead times because their partners' production lines suddenly filled up.
The big four foundries are aggressively working to build out their factory space. But their new fabs and factory upgrades will not go online this year.
With Xiaomi adopting the Apple model, even more contract capacity will be dedicated to fabricating consumer electronic parts. As Amazon, Microsoft, and Google expand their in-house chip development, they will further strain the world's production resources. The problem will be exacerbated as ByteDance and Alibaba follow their lead.
Eventually, the leading contract foundries will expand enough to catch up with the tech sector's changing practices. But until that happens, OEMs may experience consistent supply chain disruption from the semiconductor industry's growing pains. As such, the implementation of new design and sourcing methodologies is a mitigation strategy worth adopting.
Article Tags