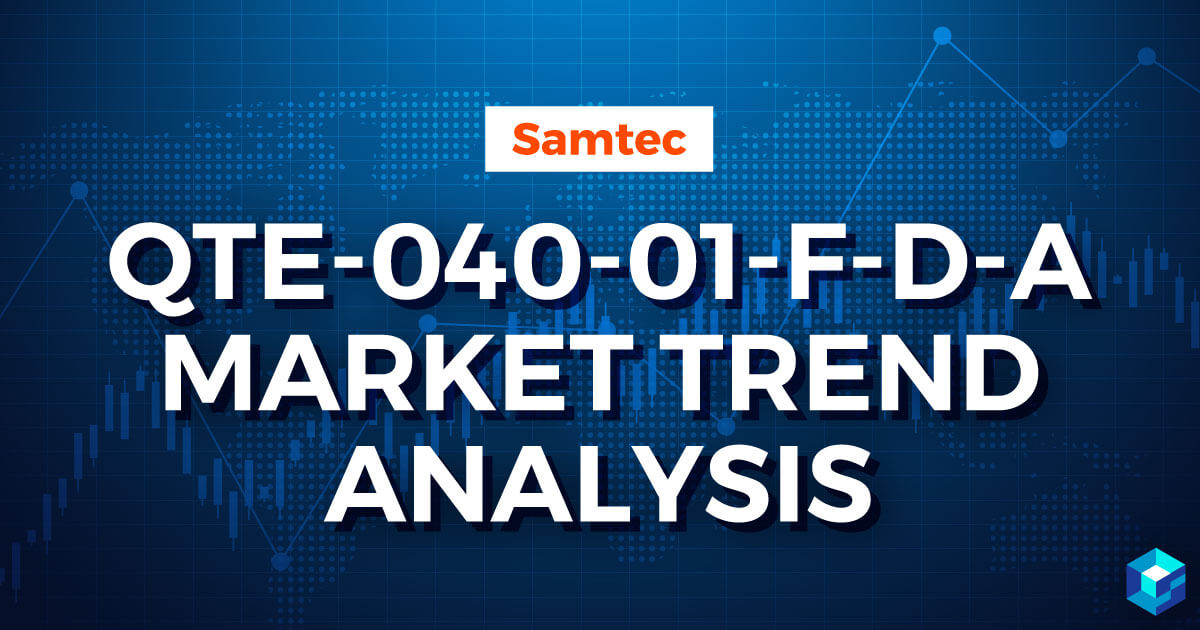 A popular Samtec item, the low profile board stacking connector, QTE-040-01-F-D-A, has shown a nice steady price trend over the last year, despite the COVID-19 virus pandemic. There was only a minor "blip" in average price at the time this pandemic began to surge around the world, especially in China. Stock levels have held a steady fluctuation since mid-August 2019 and seems to be maintaining a stable position so far today with only a modest downward trend seen in the latest graph below.
‍
Samtec, like all other manufacturers around the globe, has been influenced by the ongoing global pandemic. Its global operations team is working tirelessly to maximize output and minimize customer impact, while prioritizing the COVID-19 critical response applications.
‍
China had the world's fastest growth rate in the connector market and had become the biggest market in the world before the pandemic struck. It seems the COVID-19 pandemic, over the last three weeks, is ramping down and manufacturing is quickly coming up to a good rate as people begin to leave their homes once again and the economy resets.
‍
This is a positive sign. Now let's see how the U.S. and Europe begin to emerge from "stay at home" restrictions. Only time will tell.
‍
How did the QTE-040-01-F-D-A benchmarks perform?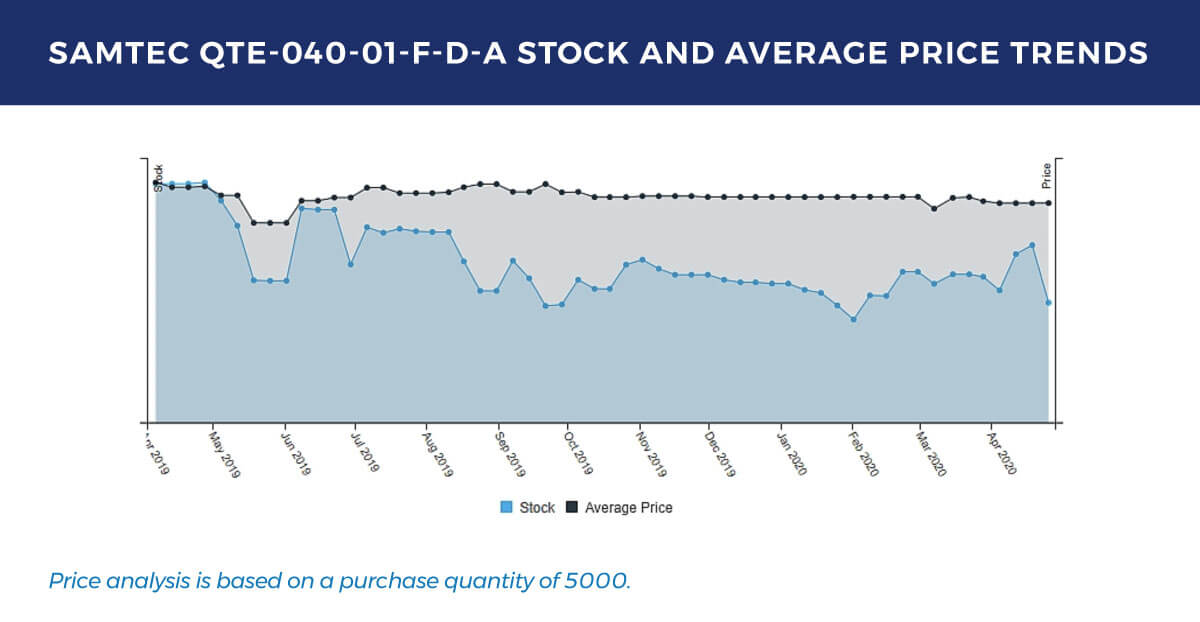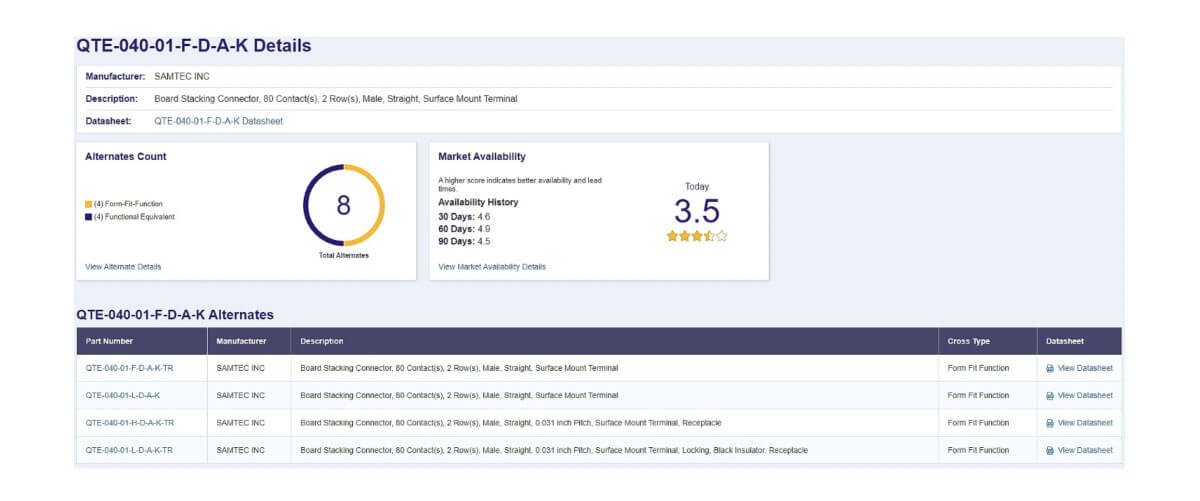 Sourcengine gives QTE-040-01-F-D-A a 3.5-star rating, out of 5, for Market Availability Score. The score is evaluated based on how many vendors (distributors and manufacturers selling direct) are selling this part and its expected lead time.  A higher score indicates better availability and lead times.
‍
There are four Form Fit Function (FFF) and Functional Equivalent alternates for the part.
‍
1. QTE-040-01-F-D-A-K-TR – Form Fit Function (FFF)
2. QTE-040-01-H-D-A-K-TR – Form Fit Function (FFF)
3. QTE-040-01-L-D-A-K – Form Fit Function (FFF)
4. QTE-040-01-L-D-A-K-TR – Form Fit Function (FFF)
‍
Here, we list out the 4 traceable suppliers for QTE-040-01-F-D-A-K available for immediate or lead time purchase.
Design Risk Level
In addition to assessing the Market Availability Score described above, Sourcengine also evaluates details of design-in risk factors. Design engineers do not need to worry about incorporating QTE-040-01-F-D-A into their design, as the design risk level for this part number is low.

On a scale of 1 to 5, where 1 is the lowest design risk, Sourcengine gives QTE-040-01-F-D-A a design grade of 1. Design Risk is calculated based on market availability and the lifecycle of a part. There is no need to worry about incorporating this product on the PCB.
What drove the market?
‍
The market drivers for high speed board connectors are 5G, IIoT, multi-gigabit transceivers, and universal LVDS ribbon cable. The latest FCC approval of Wi-Fi 6E will also result in a nice surge, especially over the next year or so, for the emergence of new Wi-Fi devices for use in the unlicensed 6 GHz spectrum.
What else can impact market trend?
The COVID-19 factor
‍
A resurgence in cases of the COVID-19 virus, as U.S. governors and other countries around the globe begin easing stay-at-home restrictions, would surely hurt this market ramp. Also, regarding WiFi 6E, many people may hold on to their existing Wi-Fi routers for another year. However, with more people staying at home, this could encourage people to get a new Wi-Fi 6E 6GHz router to handle more users in the home, as well as in multi-dwelling apartment buildings.
‍
Where can I buy Samtec's QTE-040-01-F-D-A?
‍
In light of supply chain disruptions due to the coronavirus pandemic, buyers can use Sourcengine to find the product quantities they need at the best competitive pricing, all in real time. Click here to buy Samtec QTE-040-01-F-D-A.
‍
I have never purchased through Sourcengine before. What is Sourcengine?
‍
Sourcengine is the industry-leading e-commerce marketplace dedicated specifically to electronic components. With over 2,600 suppliers/sellers (distributors and manufacturer direct) on its platform, we provide component buyers and procurement professionals easy access to over 530 million transactable part numbers. Now, there is no longer any need to shop from multiple sources and websites. Our marketplace brings the sellers to you in one place.
Sourcengine also empowers supply chain professionals with immediate access to component data sheets, alternates, and compliance details such as ECCN, ECCN governance, HTS code, and SB code.
Sign up for a free demo today for more details.
‍
Article Tags