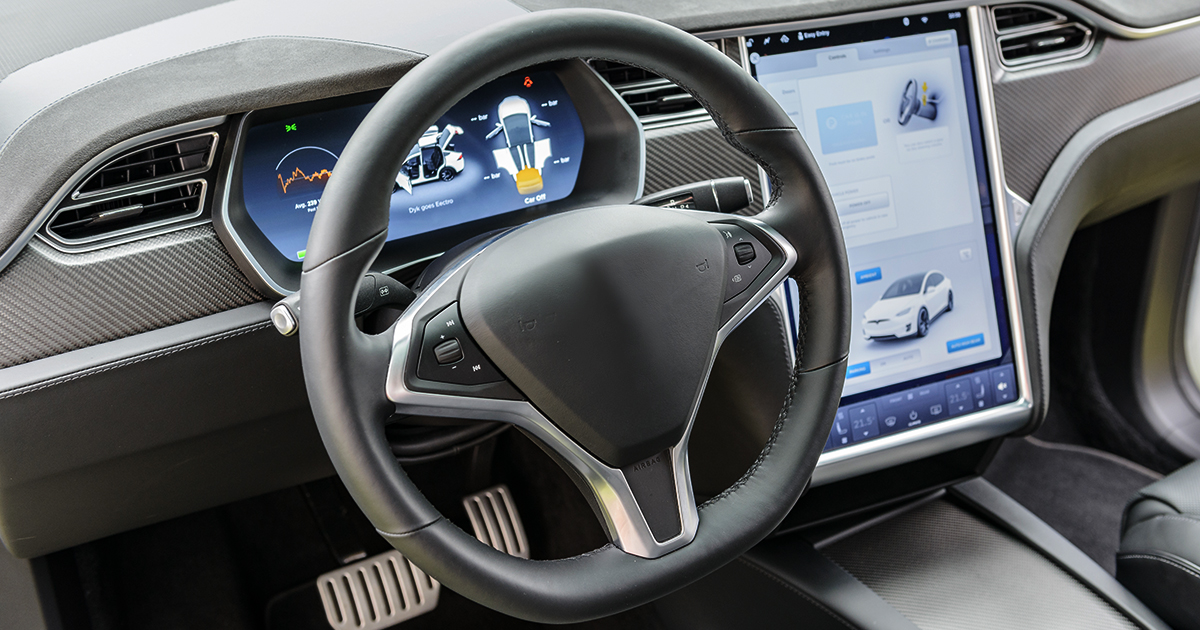 Advanced Micro Devices (AMD) recently announced it inked a supply agreement with Tesla, the world's leading manufacturer of electric vehicles. The chipmaker will supply infotainment system computing and graphics processors for the auto manufacturer's next-generation Model S and X cars. The firm revealed the new partnership during its presentation at this year's Computex Taipei virtual event.
Neither company disclosed financial details of the arrangement, but the automobile company sold 60,000 Model S and X cars in 2020.
In addition, AMD introduced the 3D chiplet architecture it developed with Taiwan Semiconductor Manufacturing Company (TSMC) at Computex Taipei.  
Why Tesla Tapped AMD to Make Some of Its Infotainment Center Chips
Tesla likely made a deal with AMD to make its luxury Model S and X vehicles more enticing to consumers.
In recent years, Tesla made developing its own in-car electronic components one of its priorities. Six years ago, the corporation began assembling a world-class team of designers to create custom chips. Like Apple, it sought to make its own CPUs to control the advancement of its products. In particular, the automaker wants to create a software and hardware stack to make its fleet fully autonomous.
Tesla reportedly signed contracts with Samsung and TSMC to fabricate its self-designed Autopilot microelectronics in early 2021.
However, the company is still content to buy its in-car infotainment system chips from third-party providers. It contracted Intel to make the digital cockpit parts for its Model 3 and Y personal transports. While that relationship will continue, it is working with a different supplier for its more expensive automobiles.
AMD CEO Dr. Lisa Su complemented Tesla for bringing "leading edge" components into the personal transportation sector. She also indicated the manufacturer would bring its best-in-class PC technology to its partner's vehicles.
Tesla could gain a significant market advantage by equipping its Model S and X vehicles with AMD's products.
The chipmaker's custom processors power the newly launched PlayStation 5 and the Xbox Series X|S gaming consoles. That means it has the resources to make in-car platforms capable of running today's most graphics-intensive titles. As it happens, Consumer Reports found vehicle infotainment system quality has become a big factor in new car purchases. Accordingly, AMD's processors could help Tesla sell more of its most profitable automobiles in the future.
AMD to Make 3D Chiplets with TSMC
Although AMD is increasing its presence in the vehicle industry, it is not pumping the brakes on its core business.
At Computex Taipei, Dr. Su noted the corporation worked with TSMC to combine its architecture with the foundry's 3DFabric technology. It teamed with the world's largest contract chip manufacturer to create a new generation of high-performance computing (HPC) products. The collaboration resulted in the development of a Ryzen 5000 processor with a vertically attached cache.
AMD's prototype has 200 times the interconnect density of 2D products and 15 times the density of existing 3D existing processors. The company intends to begin production on its new chiplets by year's end. That means they could go on sale alongside its hotly anticipated 5nm computing and server hardware in 2022.
Traditionally, microelectronics makers have improved their CPUs by etching increasingly large numbers of transistors onto ever-smaller components. But 3D packaging offers an alternate way forward, stacking several silicon layers to fabricate more powerful and energy-efficient hardware. TSMC has invested significant capital in developing packaging technology to make HPC offerings for an increasingly digitalized society.
Together, AMD and TSMC could develop desktop and laptop processors that drive the next generation of personal computing. They could also launch a line of CPUs automaker need to release truly self-driving cars, trucks, and SUVs. Such a breakthrough would give it access to what experts expect will be a $42.20 billion global market by 2030.
Article Tags