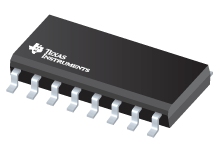 Line Transceiver, 2 Func, 2 Driver, 2 Rcvr, BICMOS, PDIP16

The MAX232 is a dual driver/receiver that includes a capacitive voltage generator to supply TIA/EIA-232-F voltage levels from a single 5-V supply. Each receiver converts TIA/EIA-232-F inputs to 5-V TTL/CMOS levels.
Compliance Details
SB Code

HTS Code

ECCN Governance

ECCN
Negotiated savings, bought with a click.
1
supplier for MAX232N available
1
supplier available
Includes

:

Scheduled shipping up to a year

3 year warranty
Supply Attributes

Supplier Availability
Price
Quantity
Total

Featured offer

Date Code

Packaging

Pack Condition

Supplier Type

Supplied By

55,004

Delivery Date

69+

$ 1.69012

100+

$ 1.30036

250+

$ 0.95700

1,000+

$ 0.68440
Width

Length

Technology

JESD-30 Code

Package Code

Sub Category

JESD-609 Code

Out Swing-Min

Package Shape

Package Style

Surface Mount

Terminal Form

Power Supplies

Terminal Pitch

Output Polarity

Terminal Finish

Nickel/Palladium/Gold (Ni/Pd/Au)

Interface IC Type

Receive Delay-Max

Seated Height-Max

Temperature Grade

Terminal Position

Additional Feature

Interface Standard

EIA-232-F; TIA-232-F; V.28

Supply Current-Max

Supply Voltage-Max

Supply Voltage-Min

Supply Voltage-Nom

Differential Output

Number of Functions

Number of Terminals

Supply Voltage1-Max

Supply Voltage1-Min

Supply Voltage1-Nom

Qualification Status

Driver Number of Bits

Input Characteristics

Package Body Material

Output Characteristics

Output Low Current-Max

Receiver Number of Bits

Package Equivalence Code

Operating Temperature-Max

Operating Temperature-Min

Peak Reflow Temperature (Cel)

Time@Peak Reflow Temperature-Max (s)