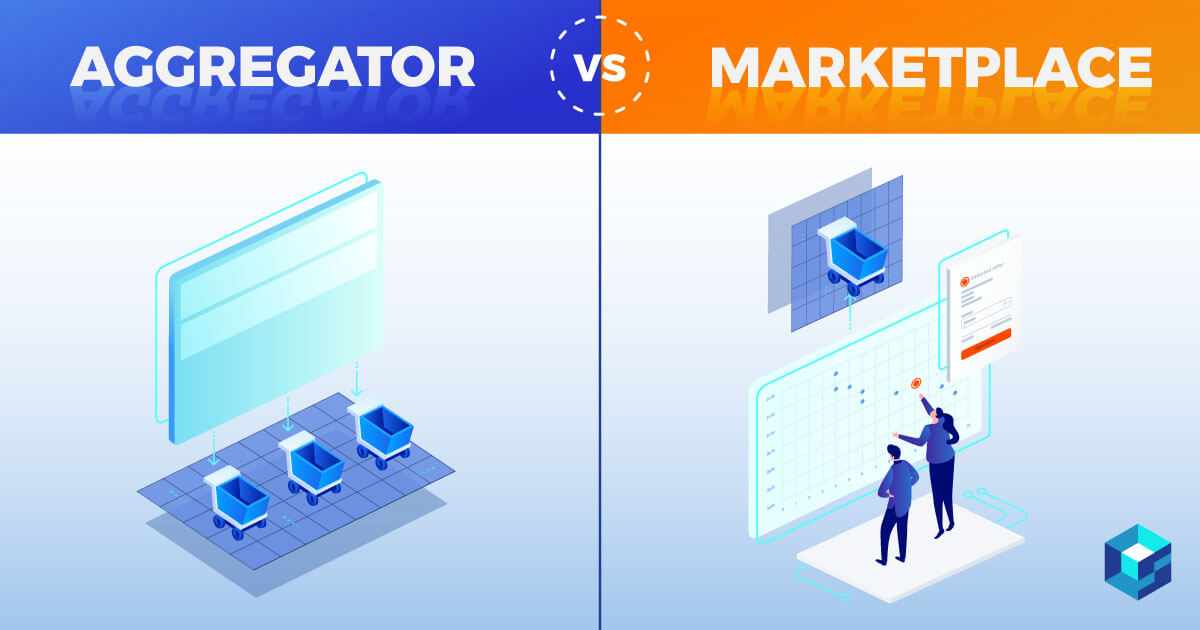 These two typical scenarios above bring into sharp focus the main differences between a parts aggregator and e-commerce marketplace:

Direct transactions. An e-commerce marketplace allows you to search and transact directly in-platform, in less clicks. Search, source, and select from multiple sellers in one environment – this is the main difference between aggregators and an e-commerce marketplace. Plus, you can view electronic components offers for OEMs or contract manufacturers in one place. E-commerce marketplaces partner with stocking distributors, integrate this inventory into a database, and place these components on an e-commerce platform.
Complete bill of material integration. With shifting deadlines, constantly changing priorities, and a fluid price structure for all of your project parts, it's difficult enough to compile your source information. Your bill of material(BOM) can change – how does that impact your parts sourcing process? In the"good old days" (which, incidentally, weren't so good for aligning BOM data with invoices and purchasing documentation), each BOM line item was over-analyzed to identify any updates to quantities, part numbers, delivery times, etc. Imagine how easier e-procurement would be if you could upload yourBOM into a fully capable e-commerce marketplace. A next-level supply chain software analyzes built-in macros and other customized elements in your BOM. Once your data is ina system and columns are properly mapped, current electronic parts data links with your BOM line items. You can transact BOM items for optimal pricing and delivery – and as a result, your projects deliverables will stay on track!
Map out your organization all within one system. The e-commerce marketplace goes above and beyond traditional parts aggregator functionality with organization-based roles, permissions, and functions.Assign, restrict, and control your entire supply chain purchasing organization on your terms. These tools include password reset capability, notification settings, role-based or regional purchasing customization, and much more.
Order scheduling up to one year in advance. E-commerce marketplaces enable just-in-time shipping, thanks to a regional distribution network. Order your entire quantity now, and schedule remaining delivery for additional items at dates that optimize your production needs. Instead of sitting on parts for weeks or months at a time, an e-commerce marketplace supplies your parts on an as-needed basis, even if you've ordered up to one year ago.
Next-Level Distinctions: Further Advantages of a True E-Commerce Marketplace
The ability to transact and quickly select, source, and purchase electronic parts is the big advantage Sourcengine's™ e-commerce marketplace provides over traditional aggregators. However, there are some additional benefits you'll get with our streamlined, super-efficient e-commerce marketplace. These advantages include:
Do-it-all dashboard. Transacting dozens, hundreds, or thousands of electronic components requires accurate data and powerful visualization tools. With Sourcengine's e-commerce dashboard, everything you need to stay current with your SCM is included. Order history, scheduled orders, saved shopping carts, supply management resources and more –Sourcengine's dashboard empowers any user with an impressive array of sourcing tools. For example, our BOM history feature shows historical pricing data for any BOM across a given timeframe. This enables purchasing agents, designers, and other users to obtain useful pricing data points from past dates, which helps predict and anticipate optimal ordering in the future.
Multi-discipline efficiency. While regular parts aggregators enable your team to view pricing data and other information, do they allow everyone to participate on a level playing field?The electronic parts ecosystem of our e-commerce marketplace means any Sourcengine user can sort, analyze, and order accessories, regardless of their role. Our users include SourcingProfessionals, Distributors & Component Manufacturers, Distributors,Engineers & Designers, Academics & Researchers, and much more! Whatever your particular process is along the supply chain management structure, Sourcengine's top-notch e-commerce ecosystem empowers everyone to fully optimize their SCM experience. It's a win-win for everyone involved – including your own customers!
Elimination of regional boundaries. An e-commerce marketplace redefines the traditional relationship between buyers and sellers. With Sourcengine, boundaries simply don't exist, thanks to a worldwide network of electronic parts manufacturers and distributors. This functionality extends to scheduled shipments (see above), further reducing operating costs.
Let Sourcengine Expand and Enhance Your Supply Chain Management Today!
Learn more about the advantages of the Sourcengine™ e-commerce marketplace today. See how our supply chain software supplements traditional electronic parts aggregator functions. By clicking on "Download Free Infographic," you will be able to learn the difference between electronic components aggregators and an e-commerce marketplace.